Strategies to Help Residents with Housekeeping
Housekeeping Classes
Many housing providers require residents who fail their housekeeping inspection to attend a housekeeping class. The group class is held in a community area with a kitchen and run by the resident association or housing staff member. Cleaning strategies are demonstrated and expectations are made clear. We recommend incorporating integrated pest management (IPM) information into this class as a motivator. Residents should spend their money on cleaning supplies, not pesticides. By the end of the class, each resident should know:
Why pests are health and safety hazards and the other content presented in The Tenant's Role in IPM video.
We recommend you incorporate this video and print resources into the class.
What the housing provider is responsible for in terms of maintenance and pest control, and how residents should notify management or maintenance of their needs.
How to clean a stove: what products to use and how to get under the stove top.
How to clean floors (including underneath the stove and refrigerator).
(In colder climates) To pack away seasonal clothes when they are not in-use.
How to Clean Powerpoint slides.
Clutter Image Rating Scale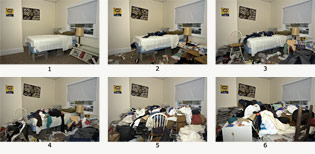 Clutter Image Rating Scale.
Take pictures of the kitchen, bedroom, and living room in the home.
Print them out.
Schedule a meeting with the resident outside their home (if possible).
Have the resident place the pictures you took on the Clutter Image Rating Scale of the pictured room (bedroom scale is pictured).
Have a discussion about what specific steps the resident must take to improve the conditions.
Schedule a follow-up inspection.
Hoarding Therapy
Hoarding is a complex disorder that is made up of three connected problems: 1) collecting too many items, 2) difficulty getting rid of items, and 3) problems with organization. These problems can lead to significant amounts of clutter which can severely limit the use of living spaces, pose safety and/or health risks, and result in significant distress and/or impairment in day-to-day living (from the International OCD Foundation). Most public housing developments have at least one true hoarder. A severely hoarded home is a health and safety hazard for all occupants in a community and cannot be overlooked. As with pest problems, you want to take steps to manage the problem before it gets out of hand. Inspecting a home within 90 days of move in and acting on inspection findings can identify hoarders and get them help before the problem effects the community. A "clean out" is not an effective way to deal with hoarding.
Because of the complexity of this issue, we recommend you read IPM In the Home of Someone with Hoarding. It includes suggested partners, action steps, and further resources.
Creative Strategies
Housing providers across the country are finding ways to work with residents on housekeeping. Read more on our case studies page. What follows are some techniques we've heard about. If you have a strategy that works, let us know!
Match the square
Use masking tape to create a square on a dirty surface—a wall, counter, floor, etc. Use the resident's cleaning products and demonstrate how to clean. Clean the surface inside the square. Leave the tape in place. Set up a follow up meeting within seven days and tell the resident that, at the follow up meeting, the surrounding surface must match the inside of the square. Note: set realistic expectations. You may have to set up many meetings to work through all the surfaces that need cleaning.
Case management
Some units need everyone on the IPM team. Even with efforts being recorded, who's doing what can get confusing. One person should be the coordinator—the case manager—for the unit. In addition to giving the resident an advocate that sees that the work in the unit gets done, managers who try this report that the case manager gets a sense of fulfillment from developing a relationship with the resident and seeing the progress. Everyone wins. Case managers can be maintenance staff, managers, inspectors, resident support specialists—anyone on-site.