Training Materials
Below you will find the materials for "IPM in Multifamily Housing," the free training delivered by the StopPests in Housing Program. Interested in getting StopPests to your site? Fill out our request form. Want to attend a training? Check our calendar.
Agenda and Related Materials
---
PowerPoints & Instructor Notes*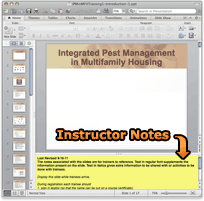 Overview & Introductions - Updated 12/5/19
IPM & Pesticide Use - Updated 12/5/19
* Instructor notes are included within the PowerPoint files.
Spanish Overview & Introductions
---
Worksheets

Handouts
HUD Bed Bug Notice PIH 2012-17
Updated Pest Fact Sheets:
Referenced in the training
Links are presented in the order in which they appear in the IPM in Multifamily Housing Training.
HUD's Notice on IPM: PIH 2011-22
HUD Notices on Bed Bugs: H 2012-5 and PIH 2012-17 with related attachment
Resources for Lawn Care