Developing a Pest Exclusion Program for Cockroaches and Rodents
Download your certificate of completion
Download a PDF of the presentation
Resources:
---
Presenter: Matt Frye Ph.D. - NYS IPM Program, Cornell University Cooperative Extension
Date: September 12th 2018
To date there are no training guides on how to implement exclusion for pest management, which may prevent company owners from creating an exclusion division. However, housing staff, especially maintenance and facilities staff and pest management professionals are uniquely qualified to identify entry points and harborage for cockroaches and rodents. This session will emphasize the steps in developing an exclusion program from the basics of identifying entry points to recommendations for sealing openings of different sizes and for different pests.
You don't want to miss this free training with pest exclusion expert, Matt Frye Ph.D. The focus of Matt's work at the NYS IPM Program is to help people prevent issues with pests such as rodents, bed bugs, ticks, cockroaches, and indoor flies. Take advantage of the Q&A time for the opportunity to ask for recommendations for existing problems. Housing and pest management professionals who join StopPests for this webinar are guaranteed to see your buildings and homes with a new pest proofing perspective.
Contact stoppests@cornell.edu for more information.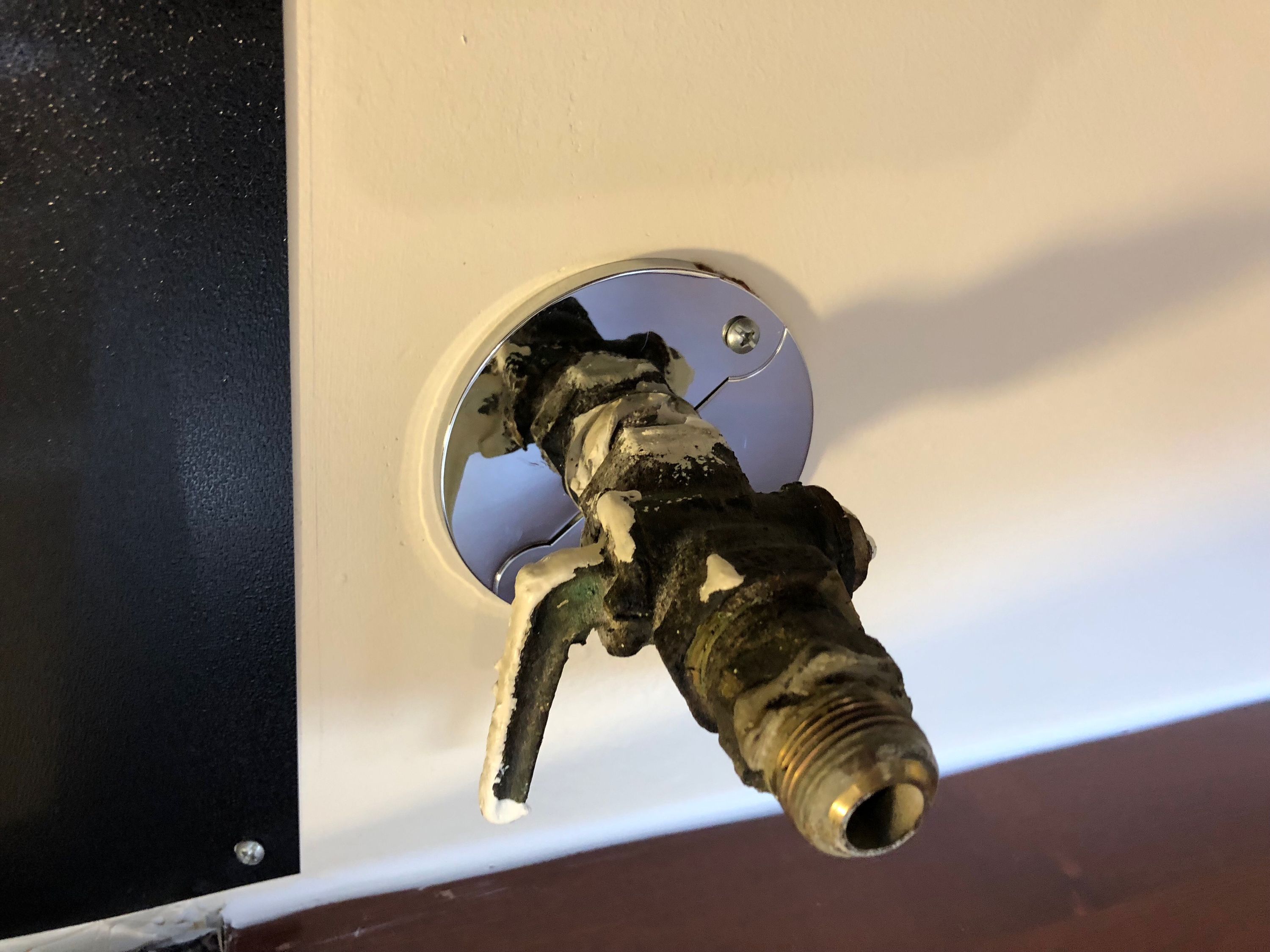 An escutcheon plate is an important tool for pest exclusion!
Questions and Answers from the live webinar
If you have any remaining questions send a message to stoppests@cornell.edu
Even though in the fall field mice and the deer mice are trying to come into your home and they are more seasonal, they can establish a population inside a home. Is that correct?
Yes, this is correct. It is a textbook case that they are coming inside the homes in fall, staying through the winter, and leaving in the spring. But they can spend their entire life cycle nesting in your home and it's also an indicator that there is an exclusion opportunity on the exterior.
With mice I've heard you should work your way from the outside to inside, using exclusion methods to seal the building and homes then focus on the interior trapping. However, you said that with rats it could be different. So with rats, do you mean we should deal with the interior population first because they will try to get outside?
According to my experience with rats, if you seal a rat inside they go crazy and create new openings and change their patterns. So, yes, you want to reduce the population inside before you do the exterior exclusion. Also, I'd agree that if you were dealing with mice (specifically house mice), you'd want to prevent new mice from coming in and then conduct your trapping because mice are probably not as destructive as rats.
Have you dealt with turkestan cockroaches in and around the building?
No, personally I haven't dealt with a turkestan cockroaches. These are typically an exterior or outside pest found usually in the south-west but possibly new york city too.
StopPests Note: for more information check out this information on the Turkestan cockroaches from the Texas Invasive Species Institute
Under what conditions, if any, is spraying necessary for cockroaches?
I am not advocating not using pesticides in managing pests and I understand that there is a role for that. When dealing with cockroaches, I would suggest reducing the population with some kind of traditional management. We can use glue boards to slow down reproduction and catch those individuals with bait or sprays. Some of the research from Dr. Dennis Miller suggests that the biggest challenge in cockroach management is that we are not identifying the population size before we attempt our management efforts. So, monitoring first to document what the size is and then using the appropriate amount of bait for cockroach management has been shown to be really effective even in severe infestations in Virginia.
StopPests Note: We recommend using baits whenever possible. Baits have a few advantages over sprays. First, they expose the residents to less chemicals. In addition, the cockroaches who eat the poison in baits share it after they go back to their aggregation spot. The other cockroaches eat the droppings and dead bodies of the poisoned cockroaches and consume enough poison to have a secondary kill. With sprays we just hope the cockroaches walk over the spray while it is still effective (approximately 2 weeks) and pick up enough to kill it. It's a gamble. With baits we can be sure the pests are getting a lethal dose of pesticides.
Can it be successful without resident tenant involvement?
It is always more helpful and more successful with resident tenant involvement. But Dr. Dini Miller at Virginia Tech has found that even without resident cooperation, the correct amount of bait applied can reduce the cockroach population– either eliminate completely or get it down by at least 90 percent. Even without resident involvement, poor housekeeping should not be used as an excuse for not controlling the pest. It is a matter of applying enough bait even in unsanitary homes.
However in case of rodent management, it is different from cockroach management. We first need to manage sanitation that requires cooperation from the residents because, if we don't have exclusion in place, the rodents can move between units. So one person's lack of involvement could affect others. Therefore, resident involvement is a must in case of rodent management.
What type of caulk works best in sealing out mice?
One of the resources is Dr. Corrigan's article, Pest Proofing Small Holes. He discusses the difference between caulks and sealants. Caulks tend to dry and pull away from surfaces. So even though they seem hard, they do not maintain strong sealing between the two parts of the opening. Therefore, we want to select a sealant that will be pest proof for more than just rodents but also for insect pests. The sealants are more flexible and so as the building moves, they move as well. I would recommend going to that article for the specific recommendations but there are some high quality sealants that could be used to start for rodent management such as Masterseal NP1, Geocel, and Rust-Oleum sealants as Dr. Corrigan suggests.
If you're dealing with an active mouse infestations and they're chewing through other materials, then sealants isn't the best option. In that case you either want to plug the hole with metal mesh fibers or do a repair job to actually seal the hole with a more permanent material that will prevent chewing pests.
Bobby Corrigan's Exclusion Essentials PCT Magazine
What's your experience working with construction sites near housing causing Norway rat problems?
I don't have direct experience with that but I understand that with construction sites there is obviously some disturbance, which can lead to rodent pressure on surrounding buildings. In those cases, it is important to identify the exterior entry points and use standards for keeping pests out. In my opinion, having an exterior management program will be helpful but it will be even better to monitor on the exterior of the building for pest pressure before doing any sort of heavy treatment. Things that have been used in the past are bait stations with detox, which is a type of monitoring block, and then snap traps inside those devices. This will give an indication of how much bait is been removed, how much rodent pressure is present, and what target pest you are dealing with if it is definitely Norway rats.
Are there any standard treatment measures for roaches, which counteract common or standard treatment measures for mice and rats?
I'm unsure about this one. But one concern is that what bait is used in rodent trap because in some cases if people use a food bait, that could be attractive to cockroaches as well as ants and other pests. So one of the recommendations is to use a non-food bait such as nesting material can be used especially for mice, sometimes people use dental floss dipped in vanilla extract to make it smell like a food source which is attractive to rodents. We do not often recommend that the standard that people use as peanut butter because there is often a lot of concern about peanut allergies. Although rodent baiting is a whole other presentation in terms of where to place traps and what materials to select, it basically compliments the current food source that they're using. Whatever they are currently feeding in that environment that is the best bait to use on the traps. In other environments, one thing to consider is how floors are washed. In commercial kitchens, for instance, sprays are being used for cockroach management but floors are washed regularly with bleach or another solution that will taint baits and sprays and make them unattractive to cockroaches.
Is it true that cockroaches and mice won't exist in the same apartment?
No, it is not true that cockroaches and mice won't exist in the same apartment.